We provide Tracking Systems that track mail, parcels, assets, files and documents. That is all we do, so our focus and commitment is total.
Our DeliveryPoD software is highly configurable and allows us to cater for all types of internal tracking as well as more traditional parcel tracking applications.
The off the shelf system uses a combination of Barcodes and Mobile Computers to track items, so you always know where an item is and have a full audit trail to prove it.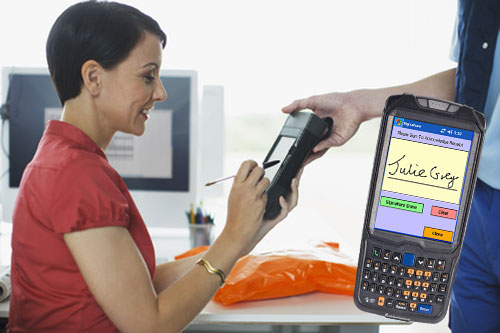 The mobile computers have inbuilt barcode readers, digital camera (option) and onscreen signature capture. This means you can:
People can sign on the screen to eliminate paperwork


Read the barcode on Mail, Parcels, Assets and Files


Locations, Trolleys, Containers etc can be barcoded, enabling you to quickly scan items into their new position


Damage can be recorded by taking a photograph


Failed Delivery Attempts can be proven by taking a photograph of an empty desk or locked gates.
Web Based Tracking System
Our DeliveryPoD tracking systems are modern web based systems, which bring many advantages:
Install on your Server or a Single PC


Access the system via your Laptop or Tablets Web Browser

No need to install software on every PC / Tablet
No Fee Per PC





Configure Automatic Emails with a link to the Tracking Report

User clicks on the link to see the 

latest

 tracking information in their web browser
No Fee Per PC



System is Scalable

Single PC / PC on Network / Server / Multiple Servers
One user to thousands of users across many sites



Multi Site Capability is built in
Proof of Delivery
All of our systems provide full proof of delivery by supporting onscreen signature capture on all mobile computers.
Tracks In All Environments
Our systems provide unrivalled levels of configurable tracking and supports multiple Buildings, Sites, Locations, Mail Trolleys, Vehicles, Depots, Staff, Customers and Couriers.
Specific Application Areas
The following sections highlight the different areas that our DeliveryPoD Tracking System can be used for. Please click on any section to see more detailed information:
Our mail tracking system is ideal for organisations that need to track incoming mail and parcels from point of receipt to their final destination which is typically somebody at their desk. The system can also track outgoing mail and parcels.

DeliveryPoD Enterprise handles all of your Internal Tracking needs. It allows you to track Mail, Documents, Assets and Files from a desk in one site to a desk or location in another site.

DeliveryPoD Logistics is the perfect parcel tracking system for Own Fleet and Third Party Logistics situations.

Track Pathology Samples from GP Surgeries to the Pathology Lab. The system can track Individual Samples, Transport Bags or Combinations of the two. It can cater easily for multiple contracts such as delivering Pharmacy and Patient Records, whilst Collecting Pathology.

DeliveryPoD File Track allows you to track and manage Files, Documents and Records no matter where they go. You can store documents and files, loan them, track them as the move from location to location or person to person.

DeliveryPoD Asset Track allows organisations of all sizes to track both fixed assets and mobile assets across their entire infrastructure as well as handling loans and allocations to external customers.