Mobile Computers, Barcode Printers and Scanners
DeliveryPoD runs on multiple platforms as the latest version is produced in Xamarin, which means it can be used with Android, iOS, Windows etc.
Android Devices
Our Mobile Computer Software now runs on Android (March 2020), so you have a wide choice of Smartphones and Mobile Computers to use.
If you are scanning lots of barcodes, we suggest trying one of our demonstration TC25 units with a built in barcode scanner, which is quicker and easier than using a devices camera. You can then judge whether it is worth the cost over a standard Smartphone. Our view is that it is for most people as it gives quicker barcode reading, much better battery life and more rugged construction for below £400. Try it for yourselves – we are happy either way.
Our advice is to try one of our demonstration devices with a built in scanner (such as the Zebra TC25) and our demonstration Moto G7 which uses a camera. People are often surprised at the difference.
We do not force people to buy hardware from us in order to use our software. With devices that have built in barcode readers we are often the cheapest source as we have Value Added Re-Seller status with the main brands. However, outside of that area you can probably buy at the same price we buy at. Indeed you may have Smartphones already.
Zebra TC25
Many prospective customers want the benefits of a built in barcode reader and exceptional battery life, but do not want to pay above £400 for a device.
This is a great area for the Zebra TC25 which is sits between the highly rugged / highly priced devices of years gone by and non-rugged Smartphones.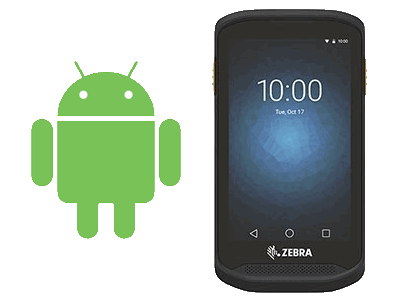 We tend to only supply desktop printers that are dedicated to a PC  / Laptop. Whilst printing on a network printer is easy, if more than one person is producing tracking labels, there is a danger they will pick up someone elses Tracking Label and put it on their item – from then on, we are in trouble.
We have been selling the Zebra Technologies Desktop printers since we started in 2003. Whilst we try other printers (we have a "best of bread" mentality), we keep coming back to the Zebra Technologies units – "simply just work and keep on working".
For Mailrooms and other applications, where a barcode needs to last less than 6 months, we suggest the Zebra GK420D (Direct Thermal) as the users only have to ensure they keep a stock of labels.
If a customer needs a barcode to last for long periods, particularly in daylight (or ambient light) we propose the Zebra GK420T (thermal Transfer) unit as the labels are not heat sensitive, although it requires a ribbon as well. Using Heat Sensitive labels for a long time in light, just does not work (the label starts to turn black after about 6 months).
We supply a range of barcode readers from Zebra Technologies. These include variations that cover all areas:
Low Cost USB Connection
Scan Stand (so you can just place the barcode to be scanned under the scanner and it will read automatically)
Wireless Scanners (for areas where a cable might be a safety hazard or just an inconvenience).
Highly Rugged units for dusty warehouses
In some situations, you may prefer fixed station tracking (for example a Post Room Counter). In this case, you would use a barcode reader (see section to the left) our PCVersion of Tracking Software and a USB Signature Pad (if you need to obtain a signature).
The Signature Pads we normally provide have these features:
Electronic Ink – as you sign, ink appears to flow from under the pen, so the experience seems very natural.


LCD Display which enables us to place a message on the screen, telling the person who is signing, how many items they are signing for.


Over 30 Signatures Per Day – we tend to specify signature pads for heavy usage.
Should you not need a Counter Mount solution, it should be noted that the TC20 might be a lower cost option.
If using the PC / Laptop Tracking Application, you may want the ability to take digital photographs. If this is the case, we supply high definition Auto-Focus Web Cams.