Types of Internal Tracking
Our off the shelf tracking system called DeliveryPoD tackles any kind of "internal tracking" as well as "external tracking". If you want to look at a specific area, please click on the appropriate description below:
Mailroom Tracking – track inbound mail and parcels from point of entry in a building to final destination (typically staff at desks)


Enterprise Tracking – track desk to desk, but where the desks are in different offices.


File and Document Tracking – track files and documents into storage, out of storage, allocate to members of staff / customers etc.


Asset Tracking – Track all types of assets such as Furniture, Keys, IT Equipment around your infrastructure.


Residential Tower Block Parcel Tracking – Book in items, email the tenant and get them to sign when they collect their items.


Halls of Residence Parcel Tracking – Receive parcels and recorded mail for students, automatically email the student to ask them to collect and finally sign for their items on a signature pad.


Business Centre Package Tracking – Track inbound parcels for tenants. Typically these are booked in, an email automatically goes to the tenant, who signs when they collect their items on an electronic signature pad
Being a modern system, it is of course web based so you can access the main system via a web browser such as Internet Explorer. This has many benefits:
No need to install software onto lots of PC's


You can access the system from the nearest PC


Mobile devices such as Tablets (Apple iPad, Android Tablets etc).


It is scalable, so it can run on a single laptop computer for small installations right through to multiple server installations for global organisations.
Single PC, Server - scalable
The system can be installed on a single laptop computer or desktop PC for small installations.
Most organisations will put it onto a single server, which is fine for most organisations.
For global organisations wanting a single system to track items globally you may want to install on multiple servers and perhaps have some form of hardware redundancy designed into the architecture.
The database the system uses is Microsoft SQL 2012 upwards. For most installations, the free SQL Express version is fine, but you can move to much higher performance editions for large organisations (such as Microsoft SQL 2008 Enterprise R2).
The system is priced based upon the what you use and the relative number of users. That way it is affordable to all.
MOBILE COMPUTERS & BARCODES​
Barcodes (or sometimes RFID tags) are produced for items that you wish to track.
Mobile Computers are then used to track items through the various tracking stages that have been configured for you.
Barcodes are used extensively both on items being tracked as well as on Mail Trolleys and Physical Locations. So for example a "Scan Into Storage" stage may ask the user to scan the location barcode (or select via a menu) and then scan the items they are putting into that location.
Signatures can be captured by people signing on the screen.
Photographs can be taken using the inbuilt camera to record / prove things such as failed delivery attempts (take picture of locked door or empty desk), damage or installation (take picture of item where it was installed).
Data can be sent back to the website via Wireless LAN, Mobile Phone Network (3G, GPRS etc) or a simple desk cradle.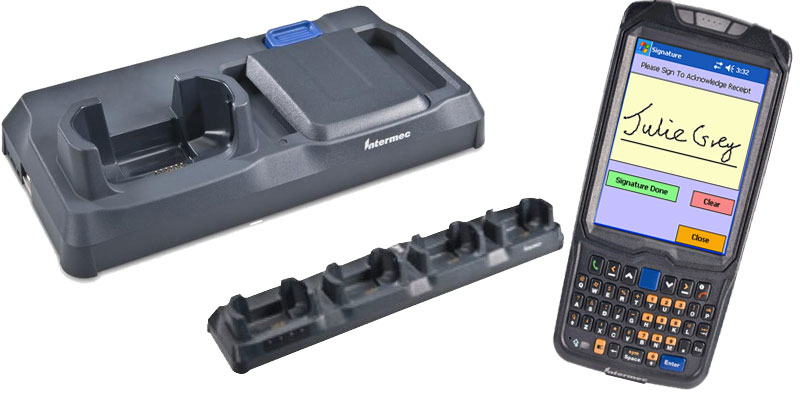 DeliveryPoD can track any type of item including mail, parcels, assets, documents and files.
We divide the types of items into two main groups:
Single Journey Items – these are typically letters, parcels and documents that need to be tracked from Point A to Point B at which point they are deemed to be delivered and tracking stops.

Our dedicated Mail Tracking and Parcel Tracking modules provide the perfect answer for these types of items. Specialist features are geared up to the single journey, no matter whether it is going from a mailroom to a person at a desk or from a desk in one office to a desk in another country.
Long Term Items – these are likely to be Assets, Files and Documents that you keep for many years and need to keep track of. 

These type of items are catered for with our Asset Tracking and File Tracking modules which have features dedicated to both tracking and managing these types of items.

Unlike mail and parcels you need to record things such as Category, Owner, Planned Retirement, Retired, Value, Depreciation etc. You also need to carry out things such as Location audits to make sure what you think is in a physical location is actually still there.

You may also need to loan Assets and Files to staff and customers and ensure they come back on time etc
Organisations are free to purchase the modules they need and not the ones they do not.
If you only need Internal Mail Tracking, you can just purchase that module. If you just need Asset Tracking or File Tracking you just purchase the module.
You can at anytime upgrade your license to include other modules, so you know you are not just buying into a dead end system. It is also a lot cheaper than buying separate systems from multiple vendors for these reasons:
You can use the same mobile computers
We just enable a module (already installed on your system) with a license key – avoiding the need and cost of a separate installation
You deal with one company for multiple systems, reducing support costs dramatically
Whilst DeliveryPoD allows you to separate out long term items (Assets, Documents and Files) from single journey items (mail and parcels) you can actually track all types of items with the same mobile computer at the same prompt!
So for example a member of staff can deliver Mail, Parcels and Assets at the same time. We call it the "Seamless Integration" of tracking systems.
Another way of looking at it is that you have a seamless tracking system for mail, parcels, assets, documents and files.
DeliveryPoD allows you to keep track of items to the following level:
Building / Site



Location (option to print location barcodes)

You can set up desks, filing trays, cabinets etc as separate locations and scan items into them



Mail Trolley (option to print Trolley Barcodes)



Vehicle

Can select Vehicle Registration etc



Courier

Select courier name, enter vehicle registration, driver name etc, possibly ask the driver to sign

Depot


Staff – You can loan or allocate assets, files to staff


Customers – Loan or allocate assets and files to customers
Tracking stages are configured for you in a few minutes (you can do this yourself). Each stage is given a name and you tick boxes depending on what you want the mobile computer to prompt for. Options include:
Obtain a Signature
Obtain a Persons Name (text entry)
Select a person from a list
Take a photograph
Record Failed Delivery Attempts (text and photograph)
Record Damage (text and photograph)
Some customers have configured tracking stages for proving that a process has been complete, rather than just for what we would view as normal tracking. For example one customer has a "Assessment Complete" stage where they scan an item returned for repair once the person assessing whether it is economical to repair has completed the task.