DeliveryPoD Logistics - 3PL
DeliveryPoD Logistics is a great off the shelf system for Third Party Logistics (3PL) as it:
Provides a competitive advantage when bidding for contracts


Facilitates the smooth running of contracts:



Keeps Everyone Informed


Real-Time Lateness Prevention


Allows all parties to have appropriate visibility:



The Company Sending the Items


The Person / Company that is due to receive items


The Logistics Team that transports items



Provides you with the tools needed to Retain Contracts
Yes, of course it obtains a Name and Signature on delivery, but in todays competitive world of Logistics, that on its own is never going to be enough to win and retain high value contracts. Those contracts will go to organisations that provide a the ultimate customer experience.
Configurable Tracking Stages
DeliveryPoD includes a utility to Create / Edit / Delete your own Tracking Stages. We configure these for customers so they start with a fully working system, however if new contracts come along that require new tracking stages, the customer can add these (or ask us to) as well as editing existing ones.
The process is simple:
Give the Tracking Stage a Name 

This is the name that will appear in the mobile computer menu and on the tracking report


Tick the boxes in the Setup Screen

This governs what the user is prompted to do (such as obtain a name, obtain a signature), what options they have (such as Record Damage or Failed Delivery Attempt, by Text and / or Photograph) and how that stage updates the system (for example if it "Moves Onto Our Vehicle", the user will be asked which vehicle they are driving and as items are scanned they will be marked as being on that vehicle – until they are scanned in another tracking stage that "Removes From Vehicle")


Click the Update Button
The real beauty of this approach is:
Mobile Users are only asked to do what they need to do


Only the options they need are there (no distractions)


The system is very flexible (it can cope with tomorrows requirements)


Rather than come back asking for a quote to change the software, you just change or add a Tracking Stage
Ensuring Items Are Delivered On Time
When you are biding to win a new contract, the prospective customer will be interested in how you ensure things are delivered on time. Of course everyone bidding will say "we make every effort", but those are just words.
What you can show them with DeliveryPoD may just make the difference between winning and losing a new contract:
Email Alert When Something Looks Like it is going wrong
DeliveryPoD allows the Parcels in the system to in effect email these people automatically on certain conditions:
You – the Logistics Company


Who Sent the Item


Who it is Going To


Specific Named Person
In order to keep things to time, we recommend setting up Automatic Emails to notify you when:
Items get to within a set time of being late


Items are now late
You can have as many as you like. You can also use Filters to do things such as warn you of items within 2 hours of being due, not yet on vans for a specific Customer / Destination combination that is an extra long drive, then have a different email request for other items (without such as specific filter).
Now you can show prospective customers how you are actively going to ensure that things are delivered on time.
The Website also has live reports that can show you items in order of what needs to be delivered and by when etc.
Keeping People Informed By Email
DeliveryPoD will normally have an Email Address of the Person an Item is Sent To. Because of this automatic email notifications can be set up very easily.
There are a number of conditions or events that you can use to trigger emails:
Labels Are Printed – let customer know items are on their way


A Set Tracking Stage is Completed – e.g. "Load Delivery Van"


Failed Delivery Attempt Occurs


Delivered


Delivered to Non Addressee or Delivered to a Physical Location

Perhaps email the person it was addressed to, to let them know


Damage Is Reported


Items Get within a Set Period BEFORE or AFTER being due


A set Time of Day is Reached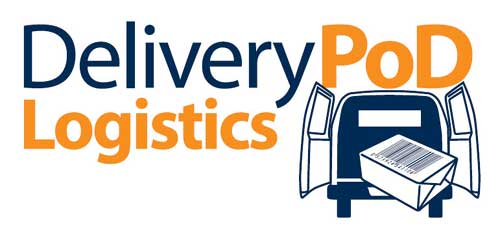 The system provides a full audit trail from start to finish. Tracking Stages can be setup to capture all the important steps as you (or your end customer) see it. Typical ones might be:
Collect Item

Vehicle is Selected by Driver at Start. Items collected are deemed to be on that vehicle, until scanned off


Scan Into Depot 

You may record the Location by Scanning a Location Barcode or Selecting From Menu


Transfer to Location

Scan the Location Barcode (or select i), then Scan Item.
The item is now recorded as being in that Location in your depot


Load Delivery Vehicle

You may use a Route Restriction (DeliveryPoD allows you to create a Route – say "Southampton and Bournemouth" then allocate Postcodes on that route.

When loading a vehicle with a Tracking Stage where the "Use Route Restriction" box is ticked, the user is prompted to Select the Route, then as they scan the items onto the Van, the Postcode on the Parcel Label is checked against the Postcodes on the Route. If you are loading onto the wrong vehicle, the mobile computer will tell you.

Once loaded onto a vehicle, the item is deemed to be on that vehicle until another Tracking Stage removes it (normally delivery or return to depot – if delivery was not possible)


Deliver with Vehicle

The driver normally selects the vehicle they are delivering with, which downloads the Manifest (list of all Delivery Points and Items)

They scan the first item and the mobile computer shows all other items for that delivery point and invites the user to scan them all.

User then normally obtains a Persons Name and Signature. In some applications you might deliver to a Location (Barcode Location an option) or a mixture of both – Deliver to Person OR Deliver to Location
The system always 
Labelling Parcels and Goods
At some point you need to get a Tracking Label onto the items you are transporting.
When talking about labels, we need to tell the system all the information you want to Search On and have in your Tracking Report:
Who it came from


Who it is going to


What Service it is going on


Description of the Item


Any User Defined information such as Purchase Order No


When it was made ready
This affects the method of creating the label and using it.
There is not a "one size fits all" approach that works well. Therefore we provide a range of choices that can be mixed and matched across your contracts:
Install PC Software at Customers Site

This is the fastest way to label items.

It can also carry on producing tracking labels when the Internet Connection is down, the data entered is stored on the PC / Laptop and automatically sent when the connection is restored

The "Who From", "Who To" and other details are set as the label is produced.

The downside is that there is software to install. However in most cases in 3PL we think it is worth it.


The Customer goes to the Website to Produce Labels

Here the customer produces the Tracking Label via the Website. It works very well, but is a little slower than the above option and you need an Internet Connection

The "Who From", "Who To" and other details are set as the label is produced.

There is no software to roll-out, but is is slightly slower than using the PC Software. It needs an Internet Connection to work


Pre-Printed Labels are given to the customer

Typically the FROM address is set before a batch of labels is produced. These are given to the customer who sticks the first part on the item (a second part is kept as a receipt), then the Driver has the option to scan the Barcode and Select / Enter who it is going to and all the other information.

In some cases where the customer has a small number of fixed delivery points (such as shops),the label is produced with both the FROM and TO already set.


Pre-Printed Labels are carried by the driver

These are "Generic" labels that the driver carries. They stick one part onto the item (the customer can keep the other part as a receipt). The driver scans the barcode, then sets who it is from and who it is going to. These are also a good option for ad-hoc pickups and returns.
People / Companies that are sent items regularly (say for example a chain of stores) can be given access to the system, so they can see what is on its way to them from the moment the Tracking Labels are active. They can answer their own queries.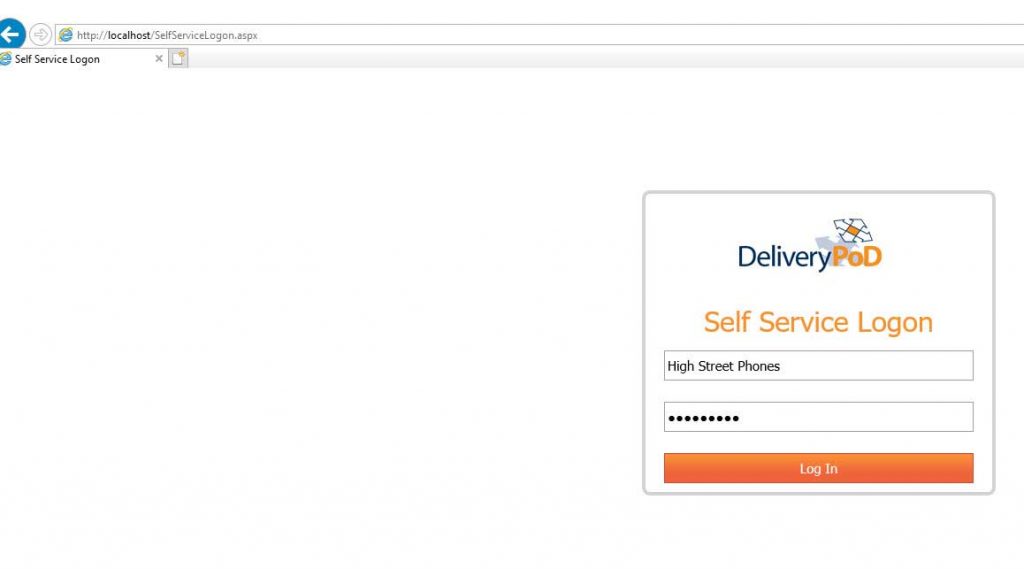 Automatic Reporting for Customers
DeliveryPoD supports the automation of reports being sent to customers, your customers customer as well as your own staff.
It is a common requirement in third party logistics to send the days tracking reports or a summary at the end of the day. DeliveryPoD allows you to set this up once and just leave to send the emails for you each day:
DeliveryPoD is available for Microsoft based mobile computers. There is also a version for Microsoft Windows PC's / Laptops.
A version for Android and iOS is currently in development.
We have re-seller agreements with the Premium Brands of industrial mobile computers, so if you want to purchase hardware from the same company as the software, you can (you can also source your own).
The choice of mobile computer is going to depend upon:
What level of ruggedness you want?

Obviously non-rugged units are more likely to break in the field, which means repair bills and what can the driver do if he or she is mid way through a round?

We offer both fully rugged (1.8 meter drop test), Durable (limited 1.2 meter drop test) and support non-rugged devices.


Do you want a built in Barcode Reader?

Our software allows the camera in a Smartphone to read barcodes. However if we had to scan a few hundred barcodes a day in low light and bright light, we would choose a unit with a dedicated barcode scanner built in.It is just quicker and easier and when there is a lot of scanning, it makes sense.
Non Rugged Devices In Logistics
We are often asked why we supply so many of these rather than a low cost non rugged smartphone?
The main Couriers still use rugged mobile computers and since they buy tens of thousands, they will have evaluated the low cost option, yet have obviously dismissed it. Therefore it makes sense to look at why this is the case.


Different Usage Pattern

Smartphones are designed for use by the general public, who don't do the following:



Move from the vehicle cab, to the outside, then indoors 40+ times a day

Each time, there is a risk of the unit being dropped, getting wet and moving between warm and cold air


Scan hundreds of barcodes each day, whilst under constant time presure



High Cost of Failure In the Field

Whilst the sales guy says, "Just buy a replacement device when they break." Logistics Managers know that a repair bill or £150 to replace a smartphone is just a fraction of the costs:



Driver cannot scan items now. Now there are stark choices:



Driver returns to depot to get a replacement scanner?



What is the cost of that?


Will you now breach your delivery promise on the items you should have been collecting / delivering whilst you were returning to the depot?



Continue without a Mobile Computer?



Do you record with pen and paper?

Do you then get someone to update the system with that data when the driver returns to the depot?



What if client needs a POD before then?


What if an automatic email is meant to go on Delivery, Failed Delivery etc?



When you just buy a replacement unit as the "sales guy" said:



Who puts the software on a new unit?


Who sets up the unit on your Wireless LAN?


Who handles the testing of the unit when it fails, before deciding to repair / replace?



The concept of "just buy a new Smartphone" really needs to be questioned by any serious Logistics Manager. The cost of replacing the hardware is not the only cost here.



Dedicated Barcode Scanner

You can scan barcodes with cameras and some cameras on the upper end phones are very good at this.

However, we have yet to see a Smartphone Camera compete with a dedicated barcode scanner when scanning a lot of items in terms of:



Speed to Scan


Ability to Aim / Read in Low Light


Ability to Read / Aim in Bright Light



Desk / Charging Cradles – When you have a large fleet, you really need to consider how do I charge these units?



Can you get 4 Bay Cradles for your low cost Smartphone?


Can you Daisy Chain the Cradles?


Consider for a moment, the space, number of power sockets and cable mess if you have to put 100 single cradles in your depot.


Can you connect the Cradles to the Network via Ethernet so you you have good backup communications?
Honeywell CN51 Mobile Computer
Our policy is to offer best of breed to our clients. So we constantly keep up to date with new devices then evaluate them, before deciding whether to adopt them. We then negotiate good pricing with our suppliers, buy in units for the sales team and a spare unit for the support team so if a customer has an issue, we can immediately try to recreate the issue.
Currently our main offering in the Honeywell CN51 rugged mobile computer.