DeliveryPoD Mailroom is an off the shelf Tracking System for tracking inbound mail and parcels within an organisation. In uses a combination of barcodes and mobile computers to track every step of the way and provide a full audit trail from start to finish.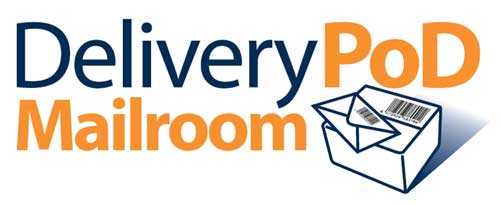 Our system is Web Based which is very important:
Can be installed on:



Our Servers – access the system via any Laptop / Tablet


Your Server – access the system via any Laptop / Tablet

OR


PC in your Mailroom – can be networked or standalone



Access the System from any PC, Laptop or Tablet Device:



Use a Web Browser that is already on your computer


No need to install software onto every PC / Laptop


No License Fee per PC for Reports / Searches



Email notifications can contain a link to the tracking report, so people can click on the link in the email – which shows them the 

latest

 Tracking Report in their Web Browser without any keying. 

There is no cost per PC to access these Tracking Reports



You can set up an email request so that the person an item is addressed to will receive an email which contains a link to the tracking report on the website. They can then click on the link in the email to see the latest information so they do not need to keep phoning the mailroom. This can be set up for everyone or individual people so there is an opt in service.


Option to allow non mailroom staff to access the system(via their web browser) to find answers to their own queries. This can save the mailroom a lot of time. You are in full control, so you can switch this on / off or make and allocate user names and passwords. There is no fee per PC or user – it is web based.
Quite simply this makes our system incredible value for money when compared against competitors that have a cost per PC or user.
You can move from a PC installation to a Server installation later on, without loss of data.
Our mail tracking system was designed to be as easy to use as possible. Having been in use for over 10 years and with 300+ sites using it to track items, we feel that we have been highly successful in achieving that aim.
There are a few key concepts we apply in this area:
Only prompt for information that YOU actually need

Each system is configured for a specific customer. Rather than having a generic screen that asks for certain information that a few customers might need, we simply have setup Tick Boxes and User Defined Fields. When we setup the system we ask whether you want to record say a "Purchase Order No", if so this is configured for you, if not it won't be, so it is not prompted for, nor shown on a screen.


Configurable Tracking Stages

Rather that say "All Mailrooms must work our way", we use Configurable Tracking Stages. These are configured for you, but you can add new ones at anytime (we can do this for you if you wish). So the mobile computer software looks as though it was produced specifically for you.

There is nothing more frustrating than being asked to enter information you don't need, or being forced to work a different way because the system says you must.


Configurable Drop Down Menus

Items in Menu Drop downs are configured specifically for you


Grids, Searches and Reports that are Setup for YOU



Remove Columns you don't need
Set Header Text (column title)
Set Width of Each Column
Set Order of Columns
Set Grouping of Column / Columns 
Store Settings which are then used globally
Receiving Items / Booking In
Receiving items and booking them in is really easy as you are recording the same information that you do with a pen and paper system.
The difference is that you book items in on a computer rather than writing it in a log book. It is much quicker using DeliveryPoD Mailroom and reading / handwriting issues are avoided too.
The receiving / booking in process is described in detail so you can see just how easy it is to use. 
Delivering with Mobile Computers
We use configurable tracking stages, so everything on the mobile computer is just as if the software was writen especially for you. This makes it much easier to use for these reasons:
You are only presented with the options you use


The prompting sequence is exactly as you expect it to be – after all it was configured around how you work


If you do something wrong, such as scan the wrong barcode, gentle warnings tell you what you have done wrong and what to do next
If you would like to see how easy it is to use, please see the video of the mobile computers in use.
No matter whether the website is on a PC or on your server, it is really easy to use.
The website is accessed using the web browser on the nearest PC. Users of different levels have their own area / menus, so they just see what they need to see.
The graphical menus emphasise how easy the system is to use, giving new users an immediate feeling of confidence.
DeliveryPoD has a lot of time saving features built in.
Take for example asking people to type in / print their name before signing – that is a lot of typing if you deliver 200 items per day, per user. We put the persons name (of who it is addressed to in the 2D barcode), so the name is obtained from the barcode so you only type if delivering to a different person. If you deliver 80% of items to the person it is addressed to and deliver 200 per day it saves you typing in 160 names per day which is 40,000 less names to type in per year!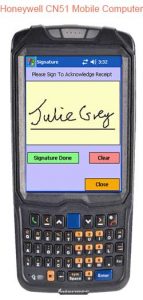 Another example is recording the Couriers Barcode / Tracking Number. People often do this, so they can answer questions such as where is DHL 1234 etc.
Our system allows you to simply scan the Couriers Barcode, our software automatically detects the Couriers Name (it looks at the barcode formats used) – so now the process is just a one second scan of a barcode to record Courier Name and Courier Tracking Number.
These things may not seem like much, but when you are handling hundreds or thousands of items a day it saves a lot of time and removes reading / handwriting errors.
Tracking reports show a complete audit trail for each item in a consignment, including names, signatures, photographs of damage and failed delivery attempts (e.g. nobody to sign).
Here is a sample tracking report, that has been exported to Adobe PDF, so you can email it, save it to disk or print it.
If you need to record information that is unique to you, our user defined fields can be used for this. Things such as "Purchase Order" or "Works No" have all been used by our customers.
User defined fields are searcheable, so if you set one up for "Purchase Order", you can search for items based upon "Purchase Order".
Sometimes networks or servers go down and sometimes it seems as though they plan to do it at the worst possible time!
DeliveryPoD caters for this by allowing you the option of using either pre-printed labels or PC based software for generating labels which will work without a connection to the website (it generates a tracking number, prints the barcode, stores the data and forwards it when the connection to the server is restored.
The mobile computer has store and forward built into the software.
So if the network or server fails, you just keep on working normally – which is handy in a busy mailroom!
The benefits of using DeliveryPoD Mailroom are as follows:
Reduce number of lost items to a minimum


Less compensation claims


Less time wasted looking for lost items


Staff receiving items do not have their time wasted


Fewer Late Deliveries


Reduced risk of consequential issues (e.g. missed flight)


Better service to staff / departments


Active Tools to Avoid Late Deliveries:



Automatic Email to Supervisor and Pulse Real-Time Report Stream "Notify me when item is within say 30 minutes of being late, but has not yet been scanned onto a Mail Trolley (for delivery)"


Possibly Allow Tenants to Access to System


Can answer their own queries, 24 hours a day


Less time wasted on phone calls / chasing emails



Overall better service


Keep Staff informed of Progress / Issues


Reduced wasted time chasing items already delivered etc


Courier Damage Recorded on Receipt


Couriers gets blame, not your staff


Quicker / Easier Claims for Compensation from Courier


Full Audit Trail – Encourages Responsibility


Service Level Performance / Data Analysis


Find Out Where Issues Are and Improve Work Flow
Multi Site and Enterprise Capable
The software can handle both multiple sites as well as tracking from a person at a desk in one office to person at a desk in another office, thereby providing desk to desk tracking security for a global organisation. Please see our Enterprise System for a full description of this (upgrade license required).
Mail Tracking with Mobile Computers
Mobile Computers are used to track the mail and parcels through to their final point of delivery where you typically obtain a name and signature for proof of delivery purposes.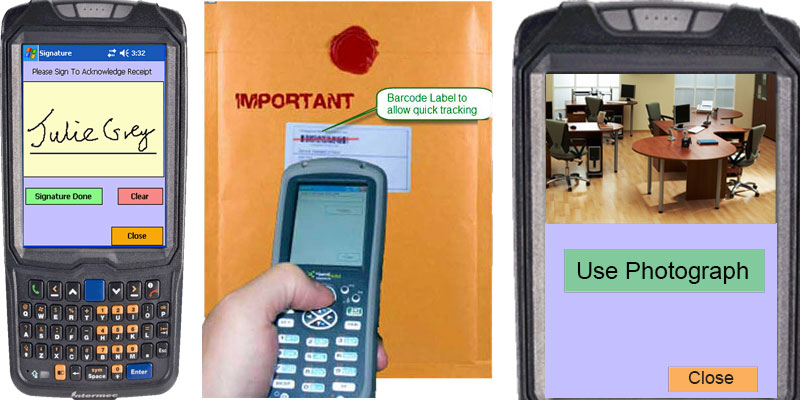 Mobile Computers are used to scan barcodes, obtain customer signatures and even take photographs to record failed delivery attempts (e.g. nobody to sign, locked office etc) and damage (or items opened before delivery).
Wireless LAN, 3G/4G or Desk Cradles
Mobile Computers can use a Wireless LAN or Mobile Phone Network (GPRS, 3G etc) to send data automatically to the website, which often arrives just a few seconds later. If out of wireless coverage Tracking Data and Signatures are stored and forwarded when the mobile computer moves back into coverage (or is connected to a cradle).
You can simply use desk cradles, in which case Tracking Data and Signatures are stored and sent when the mobile computer is placed in the desk cradle.
You can set up automatic email requests to keep both staff and the person an item is addressed to informed on progress and problems. Here are a few ideas on how email can help:
Delivered to a Colleague -automatically send an email to the person it was addressed to, just in case it was not passed on.
Could Not Deliver – perhaps an automatic email a few seconds later will help avoid any disputes.
Damaged or Opened Items – perhaps an automatic email to a manager?
Items Arrived in Mailroom – This lets people know that items they may be expecting have arrived.
Our sophisticated email configuration allows you to make the email request applicable to items going to One Person, Everyone or a Single Item. This helps you to be specific and avoid people getting what we call "Email Overload".
Configurable Tracking Stages
Our mail tracking system has configurable tracking stages, so staff using the mobile computers only see the stages they need to on the mobile computers menu. When they select a tracking stage, they are prompted only for the bits of information you have decided to record and nothing more.
Tracking stages are set up for you by our staff, though you are free to change them youselves at any time and at no cost.
Fast Searches and Reports
When it comes to answering queries, the benefits of the mail tracking system are immediately apparent:
Just enter the information you have and click on Search


Click the "Search" button and everything matching your query is shown in a few seconds.
Managers Real Time reports
DeliveryPoD Pulse keeps Managers in control no matter how busy the mailroom gets. Data is streamed live to your Laptop Computer, PC or Windows 8 Tablet as it happens, keeping you informed of key things and likely problems:
Late Prevention – Shows things such as items within 1 hour of being late, but that are still in the mailroom. Now you can take preventative action!


Activity as it Happens – Shows you all activity live, which you can filter by Mobile Computer User, Department, Service, Type of Item (letter, parcel, tickets, IT equipment).


Overall Statistics – Items received, delivered, on mail trolleys, not collected from mailroom etc.
Service performance level reports allow you to see how you compared to any set down delivery performance criteria. Unlike manual systems, they take under 10 seconds, even when reporting on 50,000 items.
If you have more than one point where items come into the building, that is catered for too. Each can be set up as a unique entry point and given a name (e.g. Mailroom, Goods In, Reception) and items are recorded as entering via that point.
The mail tracking system can be deployed to multiple sites and provide seamless tracking across your entire infrastructure. If you need to track important documents from a desk on one office to a person at a desk in a different office – that is no problem at all.
DeliveryPoD Mailroom allows you to set up multiple "Services" so you can differentiate between the different services you provide – perhaps "Standard 4 Hour", "Urgent 30 Minutes" and "Personal Item".