Inbound Supplies Tracking
DeliveryPoD is an off the shelf solution that is perfect for tracking inbound supplies in a Hospital environment. Typically items are received at the Mailroom or Receipt & Distribution Stores at which point the Courier passes responsibility to the Hospital, for the last part of the journey to Wards and Operating Theatres.
Several things spring to mind:
Even small items can be very expensive, but are very easy to mislay.


Some items are time critical—perhaps an item needed for an operation in 2 hours time. In these cases 10 minutes late can have real consequences!


Staff resources are scarce in Wards as well as the Mailroom / Goods Receipt areas.
In a nutshell, these are the key points:
Provides the fastest way to book in items

Quickly Record: Courier Track No, Who For, Item Description, Purchase Order etc.
These are all searchable fields from that moment on
Tracks Items with Mobile Computers


Full Audit Trail


Service Level Reporting (KPI)


Web Based System
No Software to roll-out to access information
Mailroom / Porters can access Searches & Reports from any PC / Laptop.
Theatres / Wards can be given access, so their staff can answer their own questions 24/7. Their Logon restricts them to items for them.
Lateness Prevention Tools Built In


Set up Email Warnings based upon minutes before / after due time.


Real Time Reports—"show me all items within 30 minutes of being late, not yet on delivery trolleys"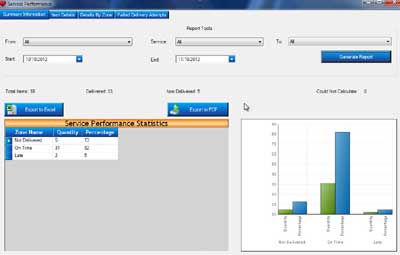 The system provides a complete audit trail from start to finish.
Since Tracking Stages are configured around your way of working, we cannot give a set list, however the following would be typical stages:
Booking In


Scan Into Location in Goods Inwards


Scan Onto Mail Trolley


Deliver with Trolley
At each step the system would record:
Tracking Stage Name


Date and Time


User Name


Items Barcode – which cross references all the booking in details


If Moved to a Trolley, Vehicle or Location – those details


Any Receivers Name and Signature


Details of Any Damage Noted

Text and / or Photograph


Details of any Failed Attempt

Text and / or Photograph (for example a picture of a locked door or empty desk which is date and time stamped – ultimate proof you did try to deliver)
You can set your own Performance Zones to measure KPI's. For example "Very Early" as being up to 1 hour before due, "Early" as being up to 20 minutes before due, "On Time" as being 19 minutes early to time due, "Late" as being 1 minute to 20 minutes late and "Very Late" as being anything over 20 minutes late.
You can then run Service Level Reports Overall, By Department, By Service or any combination you like. You set the time frames you want the results for.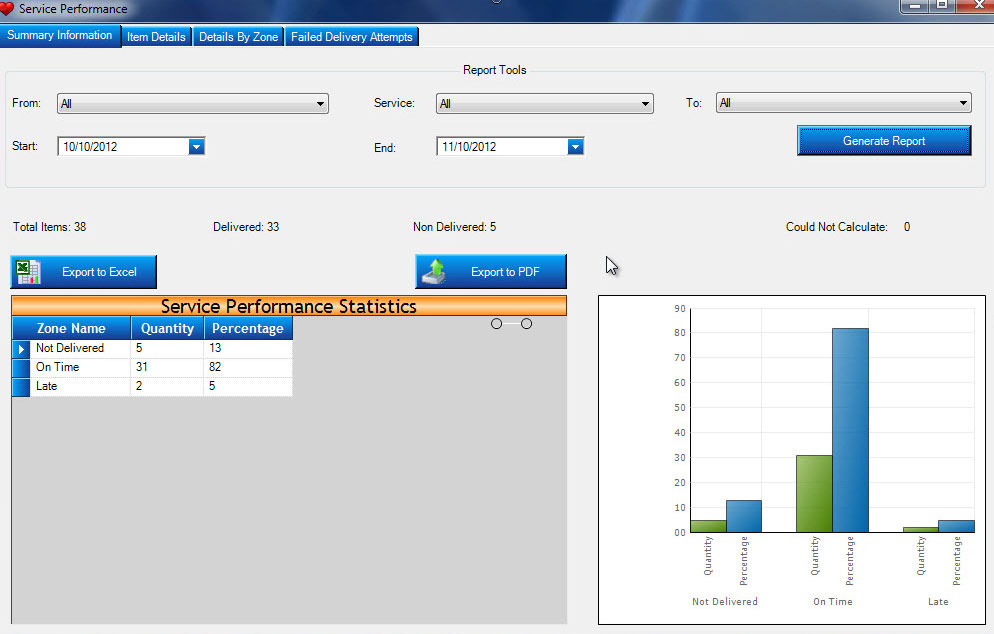 Keeping Everyone Informed
Automatic Email requests can be set up to keep staff aware of issues and progress.
Mailroom Managers may want to know:
· An item is getting near being late, yet has still not been loaded onto a delivery trolley.


· A user has noticed a package has been damaged.


Staff in Theatre and Wards might want to know:
· Their colleague has signed for their item (just in case they forgot to pass it on).


· The team tried to deliver an item, but were unable to (for example the Operating Theatre was shut).


· The items have now arrived back at stores.
All this is possible and more, saving everyone a lot of time.
Hospital Wide Access to Data
You can give both Individual Staff and Departments who receive items their own Logons.

You would normally restrict them to see only items for just them personally or their department. This is entirely your choice, you do not need to give anyone access at all if you don't want to.

The time saving to both the delivery team and Ward / Theatre staff could be massive.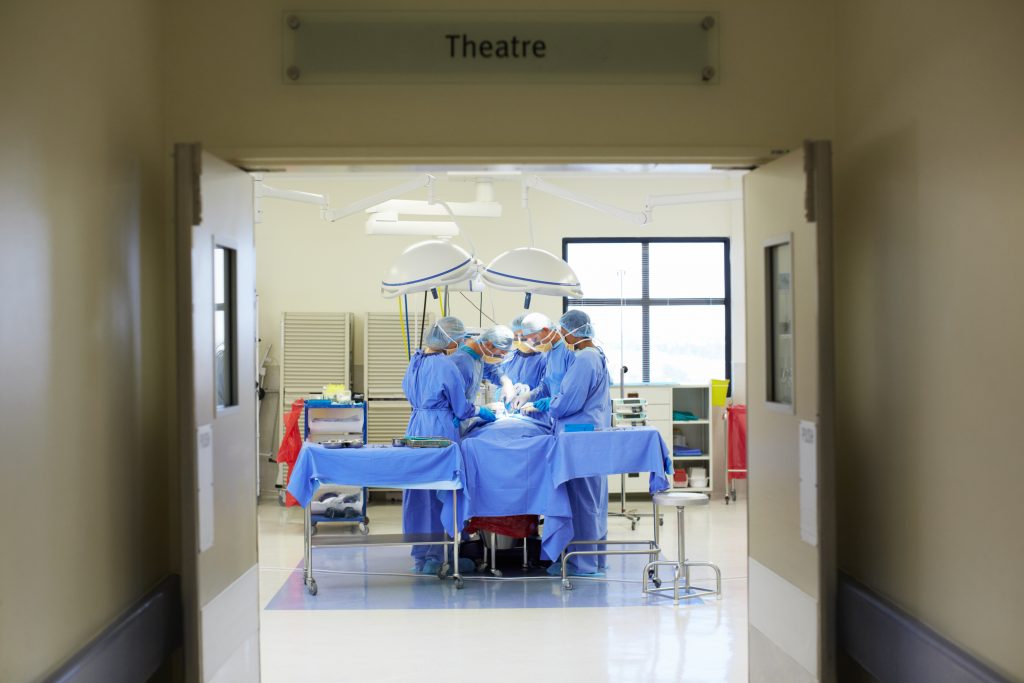 Tracking with Mobile Computers
Mobile Computers are used to track your supplies through every step of the process. You can also use the PC / Laptop version of the software to track at desks if you wish as well.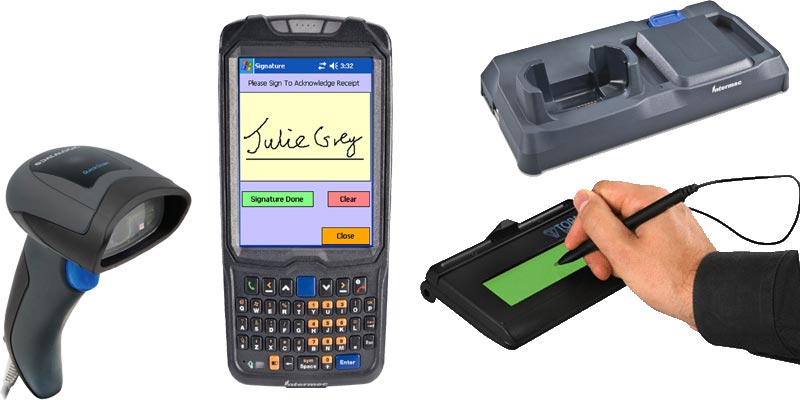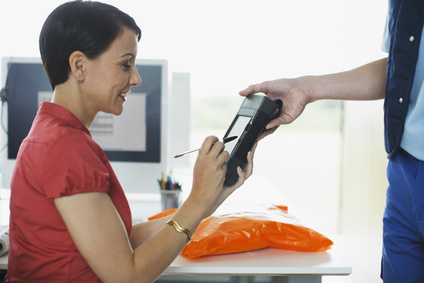 Sending Data from Mobile Computers
Mobile Computers can use a Wireless LAN or Mobile Phone Network (GPRS, 3G etc) to send data automatically to the website, which often arrives just a few seconds later. If out of wireless coverage Tracking Data and Signatures are stored and forwarded when the mobile computer moves back into coverage (or is connected to a cradle).
You can simply use desk cradles, in which case Tracking Data and Signatures are stored and sent when the mobile computer is placed in the desk cradle.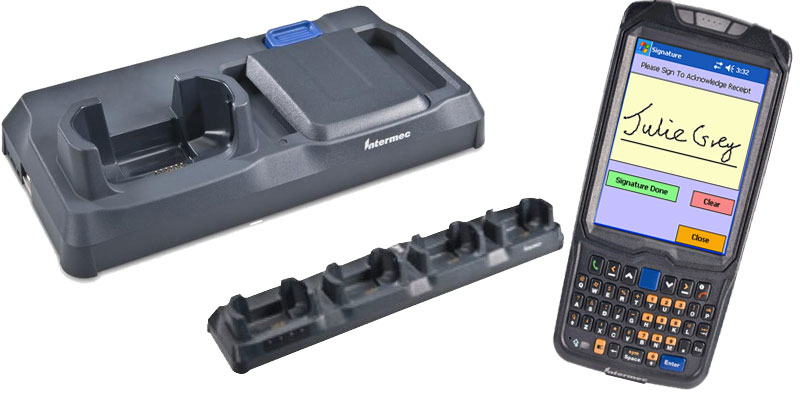 Configurable Tracking Stages
Rather than make every customer work in a fixed way, DeliveryPoD has configurable Tracking Stages. We set these up for you (we ask you a series of questions about how you work), but you can change the Tracking Stages or add new ones yourself at any time.
The process is simple:
Give the Tracking Stage a Name such as "Load Trolley" (this appears in the Menu on the Mobile Computer and in the Tracking Report)


Tick the Boxes based upon:



What the mobile computer prompts you to do, when you select the stage from the menu.


How the collected data is used to update the system

This might be to say this stage moves the item onto the Trolley or Vehicle the user selected when the tracking stage was selected from the menu


Further Options (Buttons) for the User

For example "Damage" and / Or "Can't Complete" button.
In both cases further tick boxes allow you to specify whether this should be a TEXT Entry and / or a PHOTOGRAPH (using the mobile computers inbuilt camera)

There are many other options as DeliveryPoD is extremely comprehensive, however once setup it is incredible easy to use as staff only see what they need to see.



Deploy to the Mobile Computers (single click)