DeliveryPoD Logistics - Own Fleet
DeliveryPoD Logistics is an off the shelf Tracking System for organisations that deliver with their own vehicles. The system is Web Based and provides the following key features:
Produce Tracking Labels Quickly, even if there are IT Issues


Track Items through All Steps of the Journey



Storing In Warehouse / Distribution Centre
Allows you to Set Up Locations and Print Barcodes
Scan Location Barcode, Scan Items


Loading Vehicles
Option to Setup Delivery Routes
Select Route Vehicle Is Going On
On Loading Postcode of Parcel is checked Against Route


Delivering Items
Downloads Electronic Manifest
Driver Can See Remaining Delivery Points and Items

Scan First Item – All other items for that Delivery Point are shown and the driver is prompted to scan them all off, so we don't leave with items on the vehicle for that customer.

Obtain Name and Signature
Ability to Record Failed Delivery Attempts

Text Description
Take Photograph using inbuilt Camera



Return Non-Delivered Items t Warehouse / Depot
Option to record where they were stored



Allows You to Give Customers Online Access at no extra cost
Why not allow your premium customers to see things as soon as the labels are produced?


Suite of Email Options to keep Customers and Staff Informed



Items Dispatching
Delivery Vehicle Loaded
Delivery Complete
Delivered to Non Addressee
Failed Delivery Attempt
Damage Reported


Item X Minutes Before / After Due Time

Used for Lateness Prevention
Escalate Late Items
Can filter for "On Van / Not On Van"



At Set Time of Day – Automatically Email

Customer Summary to the Customer
Customers Tracking Reports (as a batch)
Logistics Managers Report



The Best set of Staff / Management Reports in the Business


Real-Time Tools to help you see items in danger of being late, whilst there is still time to do something about it


Extensive Service Level Reporting Tools
In most cases a customer will want to record information that is specific to them such as:
Customer Purchase Order Number
Works Order Number
Who Checked Item
Type of Item / Full Description of Item Being Tracked
We set these up as User Defined Fields and then setup the following:
Prompt to be displayed when producing Tracking Label
Validation of entry (can it be left blank, text, number, max length)
Prompt in Reports
Width of Column in Reports
Position of Column in Reports
It is important to us that everything looks just perfect.
You can search on any fields of fields, so you can quickly find all items on Works Order "1234" with Description containing "iron grate".
Tools for entering descriptions
Entering long descriptions by Typing them or Copy and Pasting them can be both Laborious and Error Prone. To avoid this we provide a few tools:
You can import a Lookup Table of Product Descriptions and Barcodes (if you have one)



When entering the description of what is being sent, you can just scan the barcode and the full description is entered for you


There is even an "Auto-Print" option. Just keep scanning the Retail Barcodes, the description is entered for you and tracking label is printed without you even having to enter a description



DeliveryPoD allows you to create "Description Barcodes"



Enter a description of your choice (e.g. "10 KG Bag of Fine Sand"), enter a unique number and a barcode is printed for you to stick on the wall, a product booklet or poster.


Scan the barcode when prompted to enter a description and the description you entered before is entered for you
A low cost Barcode Scanner can be purchased for circa £135 which plugs into the USB port of your PC / Laptop.
Most Logistics operations are time critical and the thought of not being able to dispatch items when there is an IT Issue (network down, no internet connection) feels Logistics Managers with horror.
Our systems are designed to cope with issues such as Network Down, No Internet Connection and to just keep on working as best they can.
Sometimes real life customer examples illustrate things best:
A large NHS customer tracks the movement of many thousands of Pathology Samples each day with DeliveryPoD. When the "Wannacry Virus" hit the NHS, they decided to shut down their servers as a precautionary measure for a couple of weeks. Their IT team was surprised that the Logistics Team had carried on using DeliveryPoD and that all the Tracking Data magically appeared on the server within an hour of it being switched back on. They asked us to explain, which we did:
Because they decided to use our PC Software to produce Tracking Labels (rather than our Web Label option), the software realised there was no connection to the Server, generated the Tracking Labels and Stored the Data.


When the connection to the server was restored (weeks later), the data from the PC was sent to the server.


The mobile computers store data and send it as a background task as and when the mobile unit can obtain a connection to the server (Desk Cradle, Wireless LAN, 3G/4G).
We had pointed this out to the Logistics Team in training, however the IT staff were so used to systems that simply stop, they were surprised – but in a very pleasant way! 
You can set up as many different services as you wish by:
Giving the Service a name such as "Same Day by 1pm" or "Standard 4 Hour"


Defining the timescales for the Service:



Which days does it operate on


When do collections / deliveries start and finish


There are 2 options for setting how long you have to deliver the items:

1) Within a set period of the items being made ready for dispatch. For example should be delivered within 8 hours of tracking labels being printed

2) By a set time of day. Items made ready within the collection time should be delivered next day by 1 pm.

Next you can setup "Performance Zones" by giving each a name and defining the boundaries of that zone. For example:
"Very Early" is for items delivered over 4 hours before due
"Early" is for items between 4 hours and 1 hour before due
"On Time" is for items 1 hour early to time due
"Late" is 1 min after due to 3 hours after due
"Very Late" is everything after 3 hours due
Service Level Reports can now be run which can be broken down by Customer, Service, Sending Location  and Date Range: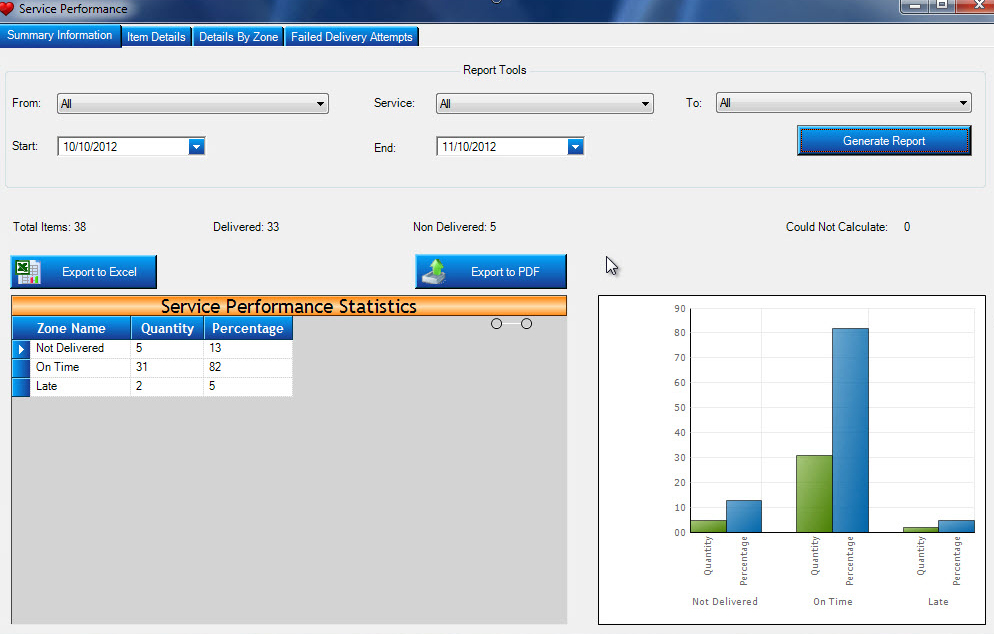 Avoid Being Late - DeliveryPoD Tools
DeliveryPoD provides active tools to warn you when something is in danger of becoming late whilst there is still time to rectify the situation.
DeliveryPoD Pulse is a free utility that enables you to stream live data to your screen such as:
Show all items within say 2 hours of being late


Don't show items already on vans
Now you can see the items that are still to be loaded and are perhaps misplaced.
Active Email Requests can be setup to email Staff when items get within a set period of being due (so you can take action to prevent a service level breach) or past due (so you are aware of the breach).
Mobile Computers and Smartphones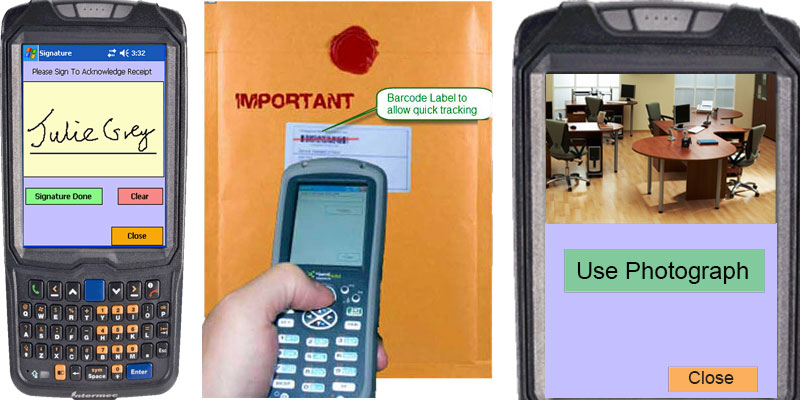 The DeliveryPoD Tracking Software is available for both Microsoft based devices, ranging from highly rugged industrial units through to low cost non rugged devices. We can supply the devices or you can buy them yourselves.
We anticipate releasing our Android and iOS version of the software in summer 2018.
For most Logistics situations we suggest looking at relatively rugged devices as they are likely to be dropped regularly in the field. Drivers may also benefit from dedicated inbuilt barcode readers as they scan easily in both low light and bright light conditions
The main part of DeliveryPoD is a Website, which allows access to information via a Web Browser already installed on their PC, Laptop, Tablet or Smartphone.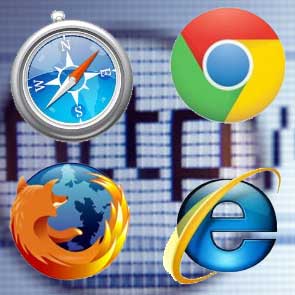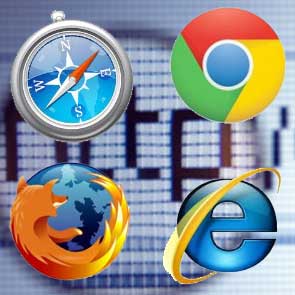 Logistics Staff are given a User Name and Password along with an appropriate User Level. User Levels are:
Staff – Can access Read Only Information
Staff Manager – Can set Email Requests, Add New Customers etc
Systems Administrator – Can adjust system settings
You can also allow customers who receive an email to click on the link to see their Tracking Report or who know their Consignment No to enter it and see their Tracking Report. However, you can switch this off.
Customer Self Service Portal
You may wish to allow some customers access to the Website, but restrict their view to items that are addressed to them. This is built into DeliveryPoD and we call it the Self Service Portal.
You setup a User Name and Password for a Person or Company and then decide what pieces of the Address must match:
Persons Name?
Company?
Address Line 1?
Address Line 2?
Town?
Postcode?
So you can create Logons for all situations, such as:
Country Manager of a Retail Store – they can see all items for their company, regardless of which store it is being sent to.


Individual Person – Their Logon would match on every bit of the address including Persons Name.


Company at a Set Address – Their Logon would not have the Persons Name set to match, but the rest of the address would have to match. So you could have the "Southampton Branch" of a Retail Store having a Logon, so they can see items for all staff at that branch.
It is a very flexible and powerful system.
"Imagine telling prospective customers that with us, you can see your items as soon as they are labelled for dispatch, 24 hours a day"
DeliveryPoD Logistics provides a Full Audit Trail from start to finish:
What Tracking Stage
User
Date & Time
Any Other Details such as:

Name
Signature
Photograph
Location Name & Building
Vehicle
Damage Text
Failed Delivery Text
The Tracking Report is exported to Adobe PDF format, so it can easily be printed and emailed.
Easy To Use Searches And Reports
Users can search reports quickly and easily by entering the information they know into a single text box and see all matching records.
For example we may want to find all "iPads" that were sent to "Kevin Lever" at "Kevin's IT Services Ltd" – so we just enter the text "ipad kevin lever services" into the single search box and it will find all records as it searches across all columns.
This concept makes it so easy for users to find what they are looking for. Training is greatly reduced and staff just take to the system.
We provide a number of options for producing Tracking Labels with Barcodes. Each option suits a different Customer / Usage Scenario:
DeliveryPoD PC Software
In the main dispatch areas we would recommend using our PC Label (PC Software) for these reasons:
It is extremely fast to use

It communicates directly to the printer set for that PC, no dialog boxes – it just prints!
Predictive Text selection of Company / Person (if entered before) is faster than the Web Based Option
PC Software does not have to send button press and text entry back to the server – so it is inherently faster



PC Software can communicate directly with the Printer, to detect what Label Size is set, end of Label Roll situations providing the user with a better experience


Works for Long Periods of IT Issues – If your Network or Internet Connection went down, the PC Software will allow you to continue working. This might be absolutely critical to your business.

It terms of how long it can do this, it is pretty much without limit. When the "Wanna Cry" virus hit the UK, one of our NHS customers switched their Server Off as a precaution. It was switched back on some 3 weeks later and all the data was forwarded from the PC's and Mobile Computers (which also store and forward data) and stitched back together within 30 minutes.

When a connection is not possible, the PC Software will generate the Tracking No on the PC, Print The Tracking Barcode Label, Store it on the PC and Automatically forward the data when a connection is possible again.
Web Label
If you need to produce a Tracking Label and don't want to install PC Software, then you would use the Label Function on the Website.
A good example might be Customer Returns, the customer could be given a "Sender" Logon which identifies where they are sending goods from. They can then produce a Tracking Label from the Website – it prints as an Adobe PDF document, so it can print on any printer and any size of paper (100mm x 50mm and bigger), including A4 paper on inkjet printers.

As soon as a Label is produced on the Website, Logistics Staff can see that an item is ready at the Location registered for that Sender.
Pre-Printed Labels
We support a range of options with regards the Printing and Usage of Pre-Printed Barcodes:
Single or 2 Part Labels (second part is a receipt for the sender)


Fixed Journey – where the FROM address and TO address is set when it is printed. These are ideal for giving to customers or drivers where there is a fixed route.


Fixed TO Address, Variable FROM Address
This is ideal for giving to drivers who may be asked on the spur of the moment to take something back. The TO address is set, so if they need to record where it was picked up from, they scan the barcode, then select who the collected it from (this makes it visible ion Searches where the person searching wants to filter based upon who sent it).


Fixed FROM Address, Variable TO Address
These might be given to a customer or depot who need to ship items to variable addresses. The driver scans the barcode and either Selects the Person / Company it is going to (there is a database of your common contacts on the mobile computer) or enter it on the mobile computer. Now the item can be searched for on the Website using the TO address as well as the FROM address (which was preset).


Variable FROM Address and Variable TO Address
These labels are very flexible, the driver selects who is sending the item, then who it is going to (select if in the database or key it in if not).
There is a lot of flexibility in terms of options. This means we can minimise work for the driver, whilst still ensuring full Search Capability in terms of both SENDING POINT and TO ADDRESS.
Online or Onsite Demonstration or Just a Chat
Well it is no good just thinking about it, why not phone us or email us for an online or onsite Demonstration, or perhaps just a chat. We have "customer facing technical staff" rather than sales staff that constantly chase you every 5 minutes, so relax and just have a chat to us.